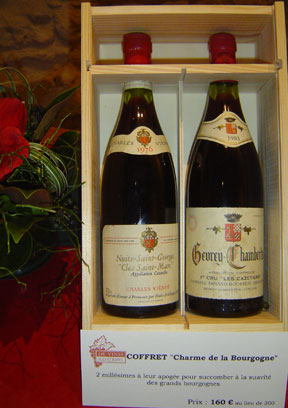 De Vinis Illustribus has a wide choice of gift boxes with eclectic themes. We hand pick unusual and excellent value wines to make up our selections. The wines come with wooden or cardboard boxes depending on their worth.
Currently on sale:
Gift box
Price
Vineyards of France

Mas Cristine 2009 (x1)
"Chevalier d'Eon" Tonnerre Dampt 2009 (x1)
"Les Trois Schistes" Montgilet 2009 (x1)

50€
De Vinis Illustribus can also create customized gift baskets.